---
"Burn Scene"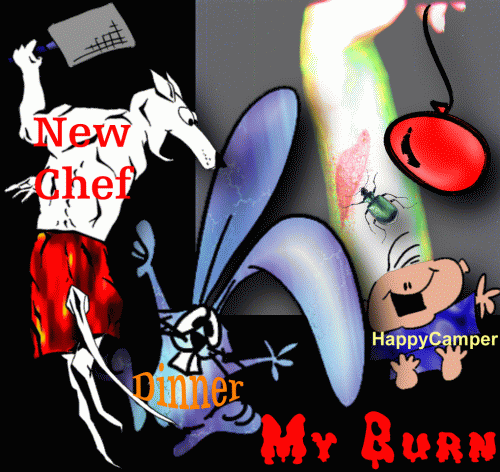 Dinner Tonight Will Be Bashed, Battered and Stuffed: "New Mexico Hare"
The only thing that is accurate on this picture is the "burn".
Here is the scan of my burn that i promised you. As you can see it was almost on my wrist, but the wok was too big: http://lillyrouge.tripod.com/burnscene.html In other words if the handle had been shorter, thus wok smaller, the wok would have gotten me right on the wrist as i tryed to place it back on its hook. The wok is a foot across. The light weight of it fools you, you donot realize the iron bottom is sticking out a lot, not at all as an iron, American fry-pan, which is heavy and flat. I guess that is why i got this wok for so cheap - i couldnot believe the price on it. I thought i was at a garage sale for a flashing moment.
Aging this wok is probably going to take years. Maybe it would be worth it to take it somewhere to have the hammer marks put into it.